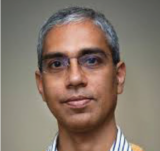 Partha Roop is a professor in the Department of Electrical, Computer and Software Engineering at the University of Auckland and the Associate Dean (International) for the Faculty of Engineering.
Partha's research interests are in Digital Health, Formal Methods for Safety-Critical applications of AI and Machine Learning, and Real-Time Systems.
Partha is working with colleagues from the Medical School and the Auckland Bioengineering Institute (ABI) on new techniques developed by his group known as organ on a chip. He is also interested in heart rate variability and Biofeedback.
Partha has been practicing Kriya yoga since 1994.